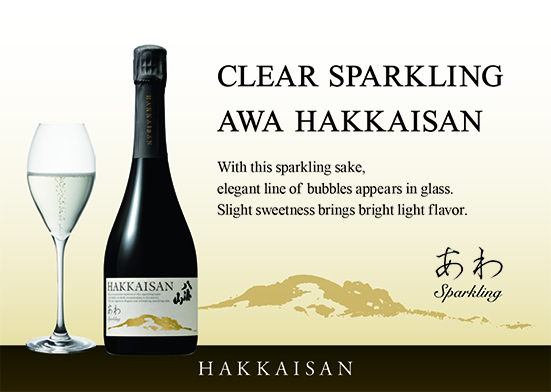 Let's celebrate Summer with Hakkaisan Clear Sparkling AWA!
Hakkaisan applied second fermentation in bottle method to create all natural, elegant and fine sparkling bubbles. Lightly sweeten and refreshing sparkling sake is perfect for summer party!
Aromas of fresh fruits with elegant sweetness of AWA pairs wonderfully with smoked salmon tartar with touch of anchovy, oil marinated oyster, or light pastry.
AWA means "bubbles" in Japanese, the line of bubbles look striking in the glass, enhancing any celebratory occasion.
Hakkaisan Clear Sparkling AWA will be available in the U.S. this JUNE!!
SPECIFICATION: Alcohol 13%, SMV -5, Acidity 1.4, Amino Acid 0.7, Milling Rate 50%,                  Rice  Yamadanishiki, Gohyakumangoku, Koshiibuki, and Miyamanishiki.
Kanpai