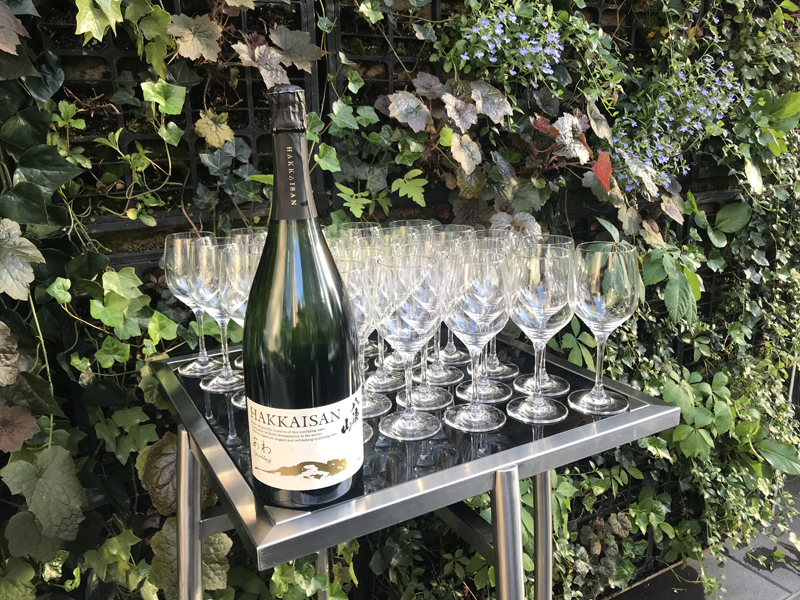 Sparkling Sake is nothing new, but Hakkaisan has challenedged itself to raise the bar and create a premium sparkling sake of note. The result is Hakkaisan's AWA clear Sparkling Junmai Ginjo sake, which made it's debut in the US market on June 5th. AWA means bubble, and that is the starting point that explains why this sake is different. Hakkaisan uses an in-bottle secondary fermentation to create CO2 through natural fermentation. This produces a fine and elegant bubble that can best be achieved in this way. The sake is lightly sweet up front with a clean finish and an overall light impression. Perfectly refreshing!
Hakkaisan Arrives in the USA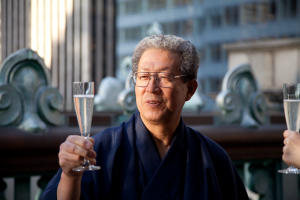 Hakkaisan AWA arrived in the USA with a special guest – Mr. Shigemitsu Nagumo, the Toji or Master Brewer at Hakkaisan Brewery. Mr. Nagumo came to New York to introduce the locals to Hakkaisan's new and premium sparking sake. The launch event was held on the St. Cloud rooftop bar of the Knickerbocker hotel in Times Square. In his short remarks to the guests, Mr. Nagumo told everyone that this event in New York was one of the most fun events he has attended in his career and with a sincere thank you, he got the event off to a great start with a hearty "Kanpai!" (cheers!). It was a beautiful summer's evening at sunset as guests gathered to try AWA served chilled and crisp into flutes which helped all to enjoy the aroma, taste and presentation of this new premium sparkling sake. Guests commented on the light taste and balance of this new premium sparkling.
How can you serve and pair AWA? Hakkaisan's AWA clear sparkling sake can be served as you would a sparkling wine, but also in new ways as well. Enjoy AWA as an aperitif before dinner to enliven the palate and wake up the taste buds. AWA also pairs beautifully with appetizers and light salads as well as seafood and shellfish with a special recommendation for oysters. Given the light sweetness on the palate, you can also try AWA with desserts, a favorite match up being a light-as-air chocolate or matcha macaron.
AWA will be available in both 360ml (12 oz) and 720ml (24 oz) sizes. If you are a fan of sparkling wine, AWA will give you an entrance into the world of sake! Welcome and kanpai!